It is no secret that I went through a fluffy fluff, fluff phase.  I was determined to grow my stash, so I did.  While it is a great stash, as a lover of the fluff, I have never stopped looking for good deals on cloth diapers.  There is always room to grow!  As I browse through the fluff in the cloth diapering world there are always a few that catch my eye, but there are some that have been sitting on my wish list since I first learned the difference between a pocket diaper and an AIO!
These diapers come highly recommended from other moms and bloggers, so if I ever get the chance to use one I will jump at the opportunity:

Other items on my cloth diapering wish list include bumGenius Diaper Sprayer
, Rumparooz Hemp 6R Soakers, wool diaper soakers, wool dryer balls, and a wetbag from Monkey Foot Designs
.  Of course, my wish list would not be complete if I did not mention my love of Blissful Booty Perfect Pockets–in any print!  I just finished telling my husband that I was battling the urge to add to our stash.  I hope to be adding some pink diapers soon, but if that proves not to be the case it would be nice to have just a few more on hand so I can stop doing laundry so much! 

What's on your cloth diaper wish list?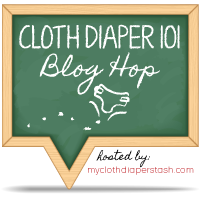 This post is part of the weekly Cloth Diaper 101 Blog Hop hosted by My Cloth Diaper Stash. This weeks topic is about the Top 5 Diapers You Would Love to Have.